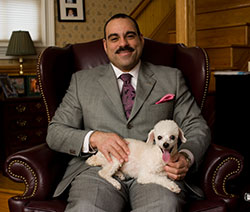 Reginald L. Royster Jr., D.V.M. has served as the Hospital Director for Haverford Animal Hospital since 1994. With a dedication to excellence and compassion in the care of small animals, Dr. Royster has been awarded several "Best of the Mainline" from MainLine Life, including 'Best Veterinarian' in 2010.
Dr. Royster was born and raised in the West Mt. Airy section of Philadelphia, graduating from William Penn Charter School in 1981.
He received his B.A. from the University of Virginia in 1985 before continuing to Tuskegee University's School of Veterinary Medicine. Here he received his D.VM in 1989. Fulfilling his surgical and medical internship at Friendship Hospital for Animals in Washington D.C., he then returned to Philadelphia in August of 1990 to join Dr. Carl Cousins as Associate Veterinarian at Haverford Animal Hospital.
After serving the Mainline for over 30 years, Dr. Cousins retired in 1994. At this time, Dr. Royster purchased the practice and became Hospital Director.
Dr. Royster continues to practice at The Haverford Animal Hospital, where he focuses on small animal medicine. He is also an active member of the Ardmore Rotary Club and Kappa Alpha Psi Service Fraternity.
Dr. Royster is a member of the following:
AAFP: The American Association of Feline Practitioners is an association of veterinarians dedicated to the pursuit of excellence in feline patients' treatment.
AAHA: The American Animal Hospital Association is an association that sets the standards by which an animal hospital should operate and conduct itself.
AVMA: American Veterinary Medical Association
PVMA: Pennsylvania Veterinary Medical Association